We Have Media Blasted
298
Classic Car Bodies Since January 1, 2013
~~~ 2018 Car Show Calendar Now Available Here: Events ~~~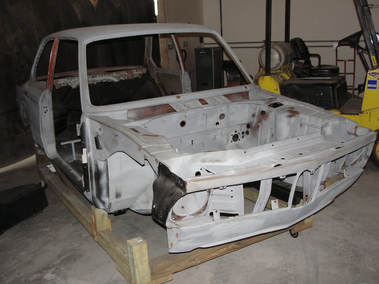 Welcome to Classic Car Blasting

One of the most challenging aspects of building and restoring a classic car, bike or truck is dealing with all of the rot, rust, scale and grime on body panels and parts. And let's face it, replacing all of those panels and parts with new reproduction ones, which are usually inferior quality and almost never fit right, is just expensive. Being able to see what is below the layers of old paint and corrosion is usually impossible. How do you best tackle this?

Dealing with chemical strippers or wire wheels is a total hassle, as well as potentially dangerous...Not to mention the mess that it makes of your garage. There is a better way!

Media blasting (often referred to as sandblasting) is the process of stripping old paint and rust from the surface of body panels, parts, and frames with compressed air and an abrasive material ("media"). Media blasting (sandblasting) is a quick, inexpensive, and effective way to remove contaminants/rust leaving you with a "clean" metal surface that provides you with an ideal base for priming and painting. When done correctly, you are left with a clean and very light abrasive "profile" (the texture of very fine sandpaper) that is excellent for primer and paint adhesion.

What Makes Us Different?
Our experience, quality of work and our Classic Car focus! Since opening our facility in 2013, we have become New England's main resource for media blasting classic cars, trucks, bikes and parts. We attribute this mainly to our quality of our service, the excellent results we provide and of course the industry reputation we have earned. Unlike other sandblasting resources, we focus on classic vehicles and we understand the care that is required to media blast them.

We specialize in stripping parts, frames, and full bodies. We have the proper equipment and facility to do so. We are not a mobile service. We blast indoors in our blast booth, so your ride will never be exposed to the elements. We keep the mess associated with media blasting in our booth and not in your driveway. We also blast at a VERY LOW PSI, using the right media (a fine crushed glass) and a small blasting tip. This means that your panels will never get damaged or warped. The result? A clean panel left with a great "profile" for primer.
---